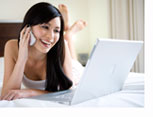 A few days ago we told of rumors suggesting an iPad 3 debut in March and that speculation is further reinforced today with news that Apple has penciled in a date of March 7 for a launch event. As you would expect from Apple this will not be confirmed until closer to the date but the date is said to have come from usually-accurate sources, who also spoke of a quad-core and Retina dispay for the iPad 3.
We had also told how Apple was said to be in 'crunch mode', in other words readying apps for an iPad launch demo and advertisements, so it does seem likely that the closer we get to March the more probable a next-generation iPad release shortly seems to get. The date of March 7 was given to this blog by sources "who have been reliable in the past" as reported by PC Mag. Another fact that makes a March 7 event date more likely is that previous Apple iPad reveals both took place on a Wednesday, narrowing that date down further.
Apple a1189 laptop battery brand new 6600mAh Only AU $72.37
Hp 2133 Battery Li-ion, 10.8V, 4400mAh only AU $66.01
Hp 364602-001 battery brand new 4400mAh Only AU $54.32
The blog also gave further details of specs, many of which we have heard of before, although again nothing has yet been confirmed. These include a Retina Display with resolution of 2048×1536 and a new A6 quad-core processor. However the most elusive detail of the new iPad at the moment seems to be whether it will have 4G LTE connectivity and that still appears to be unknown.
PC Mag also tells how an Asian parts reseller, iLab Factory, posted some images on its website purporting to be parts from the iPad 3. Those components were a Sharp LCD screen, back plate showing the Apple logo and also a 30-pin dock connector. iLab noted that the back plate was thicker than that on the iPad 2 but the same length and width and also said that an improved camera is on the way too. An article on CNN also makes for interesting reading about the iPad 3 and suggests moves that Apple should make at the big reveal, particularly with regard to what apps the company might use to show off the next iPad tablet.
One thing for sure is that between now and March 7 we're going to hear a lot more rumors about the iPad 3. However, based on current information we could actually see a release of the next iPad by the end of March so if you're one of the many eager consumers waiting to get their hands on it, fingers crossed! Are you waiting for the next iPad? What key feature will make it a must-have for you? Let us know with your comments.
Read more
How To Increase Your Laptop Battery Lifetime
How to maximize your Apple laptop battery charge
How to Use and Maintenance of Your Laptop Batteries
Laptop battery and ac adapter issues troubleshooting instructions
Improve laptop battery life and performance ultimate instructions
How to Use Disk Defragmenter to Save Your Laptop Battery Power